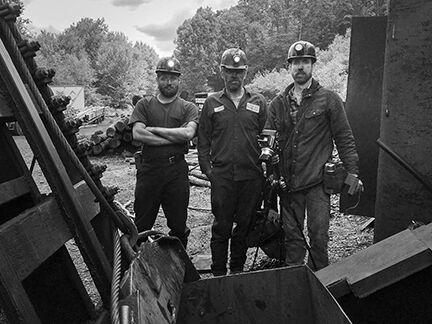 PAINTSVILLE — Since 1935, an ongoing endeavor known as the Kentucky Documentary Photographic Project, a non-profit organization that has aimed to document and catalog a visual record of change across Kentucky, in all 120 counties, and Appalachian culture as a whole.  
Broken into four iterations from 1935 to 2055, the project currently stands at the finish line of its third segment from 2015 to 2023 with the first two iterations being from 1935 to 1943 and 1975 to 1977.
According to the archives mission statement they send photographers to roam the state to record the landscape and how Kentuckians live, work and play.
The project was created by three men, Bob Hower and Ted Wathan of Louisville, and Bill Burke of Massachusetts, and is funded through the Federal Endowment of the Arts Grant.   
One of their photographers is Dane Rhys. Rhys is a professional photographer from Australia, was tasked with being one of the photographers in our local region of the state.
Rhys says he found himself in this line of work by starting out in the gold mining industry in Australia where he transitioned into documenting towns shaped by industrial change.
Rhys left to study at the New York International Center for Photography where he attended for years, before beginning a three and a half year venture to photograph all of Appalachia, from New York to Alabama.
"I spent two years at the International Center for Photography doing photojournalism studies and since then I've been documenting industrial change in communities," said Rhys.
Rhys said that, for this job, he has been charged with documenting all life within Appalachian culture and he does just that.
"I go into mines and factories and power plants. I go into restaurants," he said. "I spent a full day in a prison hanging out with inmates. I photographed ride alongs with Sheriffs. I've gone into courthouses. I approach people on the street and just see where life takes me sometimes."
Rhys said he was given a lot of Eastern counties of the state as a part of his territory. He said he lets the people of Appalachia show him what to document as they show him what is most important to them in their way of life and he hopes to represent an authentic mirror of the region.
"When you listen to the good people that you meet, what they think is important to be documented, it's going to take you into a different direction and I believe that is the key thing," Rhys said. "You listen to the people who's home this is, who have a history and a culture to share and you let them guide you."
Rhys said it is not his story to tell. He is just a tool to use in order to photograph what Appalachians find important.
"I've been doing this for five weeks now and it is such an experience," said Rhys.
Not only has Rhys captured the broad strokes in the local way of life, but he has also captured very specific moments that are personal.
"I got invited to a birthday party for a six year old girl and I got to photograph her party. They showed me what Appalachian life really was for them that day," said Rhys.
Rhys said he doesn't want to take photos of people — he instead wants to make photos with them.
"If I stick to that, these aren't my photos I'm creating. They are the community's photos. I just have to let the people guide me. I think that's important," said Rhys.


Read More: Kentucky Photographic Project passing through | News