The Department of Homeland Security (DHS), a far-reaching federal response to the terror attacks of Sept. 11, 2001, on U.S. soil, began operation as a new Cabinet-level agency on this day in history, Jan. 24, 2003.
"Our duties are wide-ranging and our goal is clear — keeping America safe," the department states online of its mission.
The creation of DHS enjoyed overwhelming bipartisan support amid the fear that followed the 9/11 attacks.
ON THIS DAY IN HISTORY, JAN. 23, 1957, WHAM-O PRODUCES FIRST FRISBEES, RESHAPING LEISURE, SPORT
It has engendered widespread criticism in recent years from across the political spectrum for giving a bloated federal agency the ability to pry into the lives of everyday Americans.
In particular, DHS has been found to be at the center of the Biden administration's alleged collusion with tech giants to censor free speech in recent years.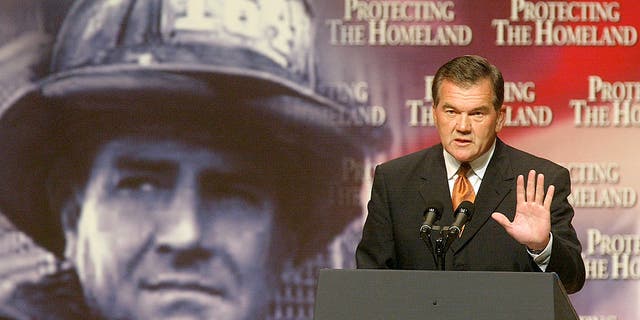 At the same time DHS was allegedly working to censor everyday Americans, it brazenly shirked its most basic security responsibility: protecting the U.S. border. 
Calls have grown in recent months to impeach DHS Secretary Alejandro Mayorkas amid the department's increasing abuses and ineffectiveness.
"A mistake made in panic would be best fixed by starting over." — The Brennan Center
DHS is now a bureaucratic behemoth with more than 240,000 employees and a fiscal year 2023 budget of $97 billion — greater than the annual budget of 42 states.
SHOULD SECRETARY MAYORKAS BE FIRED? HEAR WHAT THIS BORDER TOWN SAYS
A frightened nation called for the creation of an umbrella security agency in the aftermath of 9/11.
"We've learned that vast oceans no longer protect us from the dangers of a new era," President George W. Bush said on Jan. 24, 2003, as he led a swearing-in ceremony for Tom Ridge as the first secretary of Homeland Security.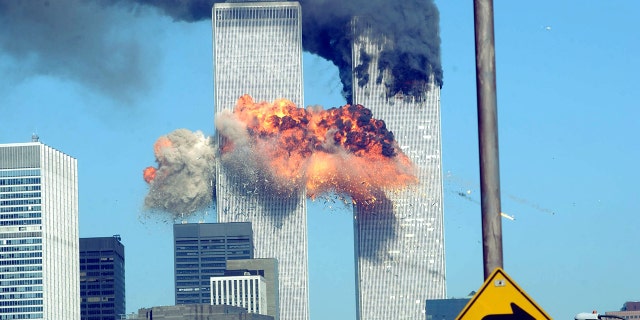 "This government has a responsibility to confront the threat of terror wherever it is found."
An Office of Homeland Security was created within the White House on Oct. 8, 2001, just four weeks after the 9/11 attacks savagely killed nearly 3,000 people in New York City, Washington, D.C., and rural Pennsylvania.
"With the passage of the Homeland Security Act by Congress in November 2002, the Department of Homeland Security formally came into being as a stand-alone, cabinet-level department to further coordinate and unify national homeland security efforts," DHS states in its online history.
Ridge, the governor of Pennsylvania on Sept. 11, first took over Homeland Security leadership duties in an advisory role on Sept. 20, 2001.
He led DHS until Feb. 1, 2005.
"We've learned that vast oceans no longer protect us from the dangers of a new era." — President George W. Bush
The department combined 22 different federal departments and agencies into a unified organization to better coordinate responses to threats and attacks.
It became the 15th executive department under the Executive Office. It is the third largest among them.
The Homeland Security Act of November 2002 turned the White House office into the Cabinet-level department known today.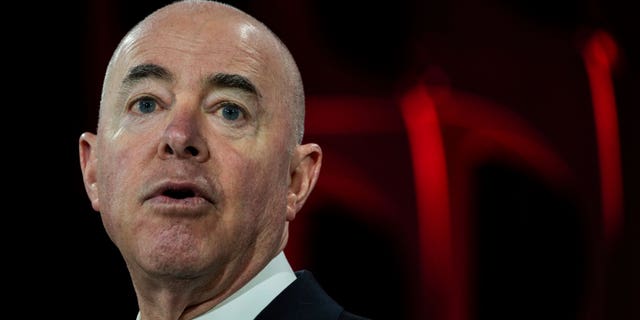 The act passed with overwhelming bipartisan support: a 295-132 vote in the House and a vote of 90-9 in the Senate. 
President Bush signed it into law on Nov. 25.
The Homeland Security Act was one in a long list of bipartisan legislative victories for the Bush administration in the aftermath of 9/11.
UNIVERSITY OF WASHINGTON SUED FOR WITHHOLDING DOCS DETAILING PROFESSOR'S ALLEGED ROLE IN DHS DISINFO CAMPAIGN
The unified response to the terror attacks contradicts the way media and political opponents soon portrayed President Bush as a cowboy "going it alone" — to cite one incessant criticism that grew increasingly savage in the years that followed.
The Iraq War Resolution, for example, passed 296-133 in the House and 77-23 in the Senate.
Then-Sens. John Kerry, D-Mass., Hillary Clinton, D-N.Y., and Joe Biden, D-Delaware, all voted in favor of both the Homeland Security Act and the Iraq War Resolution, before becoming vocal critics of the Bush administration.
The Homeland Security Act passed 295-132 in the House and 90-9 in…


Read More: On this day in history, Jan. 24, 2003, Department of Homeland Security